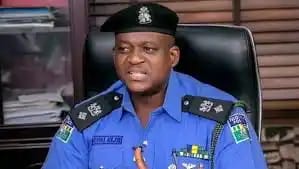 Residents of a neighborhood in the Mararaba Area of Nasarawa state has applauded the brave deeds of a police officer who lost his life while rescuing his neighbor's daughter from a raging fire incident on Saturday night.
The policeman, whose name has not yet been disclosed, until his death was attached to the Nigeria Financial Intelligence Unit (NFIU) in Abuja, was said to have rushed into his neighbor's house to save the child that was trapped in the fire.
Residents of the area told Newsmen that the policeman successfully rescued the child but sustained major injuries.
He was rushed to the hospital Saturday night but died on Sunday, the source said. "He is a hero, without him the neighbor's child would have died in the fire."
Officials at the NFIU confirmed the death of the policeman who was said to be attached to the mobile police unit before he was seconded to the NFIU.
When contacted, The Police spokesperson Muyiwa Adejobi said the force headquarters was yet to be briefed on the matter at the time of this report.