ONE SHOT DEAD, SEVERAL OTHERS INJURED AS NSCDC PREVENTS KIDNAP ATTEMPT ON FOREIGNER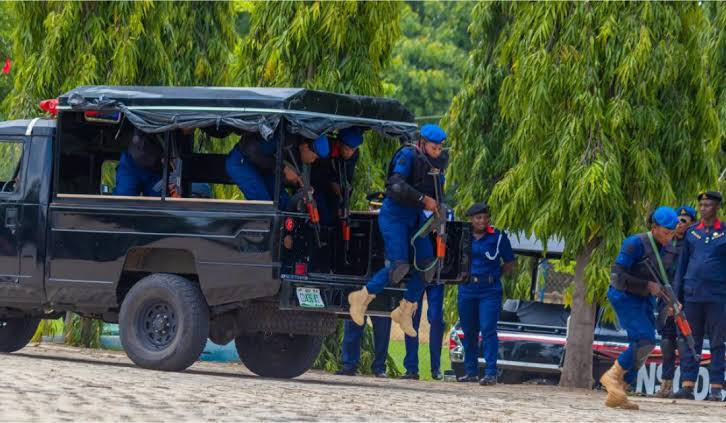 One person has been left dead in a gun duel that ensued between suspected kidnappers and gallant men of the Nigeria Security and Civil Defence Corps at Easy Gate Farm on Abanla Ogunmakin Road, Ibadan, Oyo State.
The NSCDC Public Relations Officer, Oyo State, Oyindamola Okuneye, disclosed this in a statement on Thursday.
The statement read, "The officers of the Corps yesterday (Wednesday) around 10:30 pm shot one suspected kidnapper at Easy Gate Farm on Abanla Ogunmakin Road, Ibadan, Oyo State.
"The suspected kidnappers, numbering eight, gained entry to the farm to kidnap the owner of the farm, who is a foreigner but had to engage the gallant officers of the Corps in a gun battle.
"One of the kidnappers was shot dead and others escaped with various degrees of bullet wounds".
This isn't the first kidnap attempt that has gone down on the farm, recall that in June, one of the officers protecting the farm had been shot in a gun battle when suspected kidnappers attacked the farm and tried to kidnap workers
The agency has called on the public, most especially residents that they should report anybody with bullet wounds in other to arrest other members of the kidnap gang that escaped with the bullet injuries.