THIS IS A CALL TO SERVE YOUR PEOPLE MORE, ABIODUN TO 20 NATIONAL HONOURS AWARDEES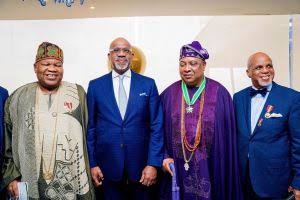 The Ogun State governor, Dapo Abiodun thorough the Chief of Press Secretary has charged the 20 national honours awardees from the state to help attract more investments to the state as the awardees have enormous clout to attract more private participation in the industrial development programmes of his administration.
The governor further noted that the conferment of the national honours awards on the recipients was a further call on them to give more in terms of service than they have ever done to the people and the state, adding that he expected the awardees to be more involved in the collective vision to give the state a focused and qualitative governance.
He said, " There are different avenues where investors can participate in our ISEYA core Pillars of our development Agenda. More than these awards, this honour is a call on you to give more in terms of service than you have ever done to our people, and our dear State, in particular, and humanity, in general. Greatness is a continuous thing: it has no beginning, and neither does it end.
He, however, stated that his administration would continue to formulate policies and execute programmes that will continue to take Ogun State to the desired destination.