A yet unidentified bike man has been swept away by the heavy flood at Ogunyanwo Street, Isale Ojumele, Sagamu Ogun state. The heavy flood was reportedly caused by the heavy rain fall in the late hours of today, Saturday 15th October 2022.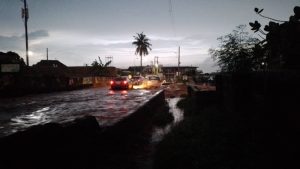 Eyewitness report States that the bike man had a passenger behind, and getting to where the flood was, the passenger who was a woman jumped off the bike, but the man kept struggling to save himself and the bike, but his efforts wasn't enough.
Passerby tried to rescue him off the dire situation, but it was more than what anyone could do. Up to the time of filling this report, he has still not been found.
The severity of the situation was attributed to the bad road and clogged drainage in the area.
More reports to follow…..