EIGHT INTERNET FRAUDSTERS ARRESTED BY AMOTEKUN IN OGUN STATE OVER N15 MILLION FRAUD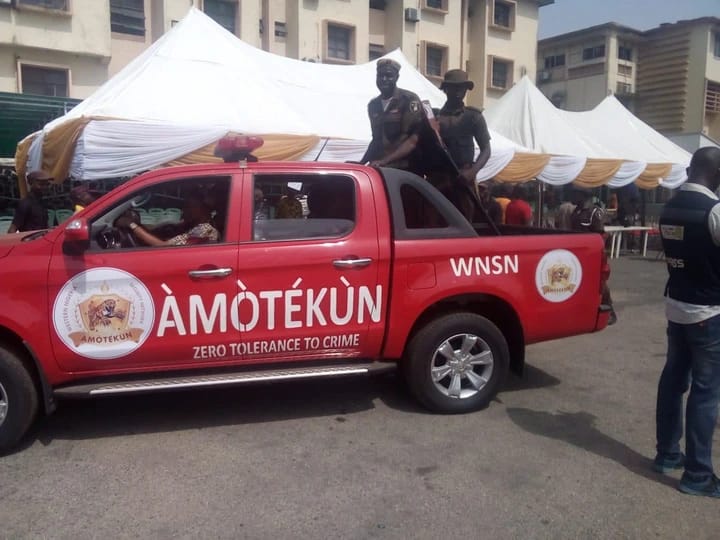 The Amotekun Corps in Ogun State have arrested seven men and one lady for allegedly obtaining a sum of N15 million under false pretence.
Akinremi, a retired Commissioner of Police, said the suspects were arrested on September 30 in a story building in Idiroko, Ipokia Local Government Area of Ogun.
Their arrest, Akinremi said, followed "a tip off on suspected criminal activities of about 100 young men and women which were of security concern to members of the public in the neighborhood."
While infiltrating into their ranks, the corps had received a complaint from one Mr. Sheriff Mohammed, who claimed to be a student of the Federal University of Agriculture, Zura, Kebbi State.
Mohammed had complained that he was defrauded to the tune of N600,000 by some suspects under the guise of facilitating his educational pursuit in a university owned by QUINET IM Nigeria Bulldozer Venture.
According to the complainant, he was introduced to the syndicate by his elder brother.
According to him, sometime in December 2021, Hounkpe Stephen asked him to come from Kebbi State to Parakou, Benin Republic, with the sum of N600,000 to enable him to facilitate the continuation of his education in a university owned by the said company.
On December 27, Stephen and one Toheeb (now at large) made away with the money.
The victim, according to Akinremi, later discovered that no university admission was processed for him, and when he demanded a refund of his money in September 2022, he was allegedly beaten by the suspects.
It was gathered that when the syndicate's activities became suspicious in the Benin Republic, the Beninese authorities dislodged them; hence, they relocated to Idiroko, where they continued their activities.
The Corps Commander added that after the arrest of suspects, another 10 of their victims had appeared, making allegations of having been defrauded in similar circumstances.
"Preliminary investigation has revealed that over N15million has been obtained by members of the syndicate both in Benin Republic and Nigeria," it was said.