AMOSUN WANTS THE BEST FOR OGUN STATE: ADC CHIEFTAIN DECLARES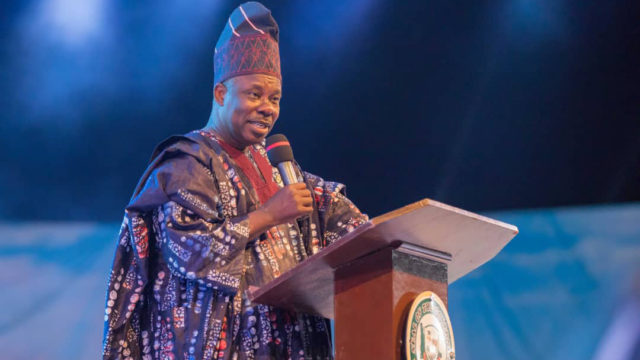 A chieftain of the opposition African Democratic Congress (ADC) Chief Olawale Adebajo, has applauded the former governor of Ogun state, Senator Ibikunle Amosun for declaring support for the governorship candidate of ADC, Barrister Biyi Otegbeye, despite being a member of an opposition party.
Amosun, who represents Ogun Central Senatorial District in the National Assembly on the platform of the All Progressives Congress (APC) recently expressed his support for Otegbeye while speaking on BBC Yoruba program.
Adebajo who spoke to reporters in Abuja described amosun's move as patriotic, adding that "otegbeye is a man of high integrity."
He noted that Amosun has shown an uncommon consistency and unwavering commitment to ensure the emergence of a governor of Yewa-Awori extraction.
Stating that Amosun's support for Otegbeye is solely because he has seen what others have not seen: a fertile land who is ready to serve the people of Ogun state. This coalition and affinity are examples of unity of purpose.
"Undoubtedly, Amosun has shown a great level of courage and conviction in aligning with Asiwaju Bola Tinubu's unity agenda. Since Otegbeye's ADC party recently suspended and expelled its Presidential Candidate, this move has given Otegbeye a reason to show a total support for Tinubu just as Amosun. The three chords are complete with Tinubu in the centre: Tinubu, Amosun and Otegbeye", Adebajo noted.