CHIEFTAINCY TUSSLE: OLOTA OF OTA ACCUSED OF IMPOSING BAALE ON IYESI OTTA COMMUNITY AFTER BLATANTLY REFUSING TO INSTALL ELECTED BAALE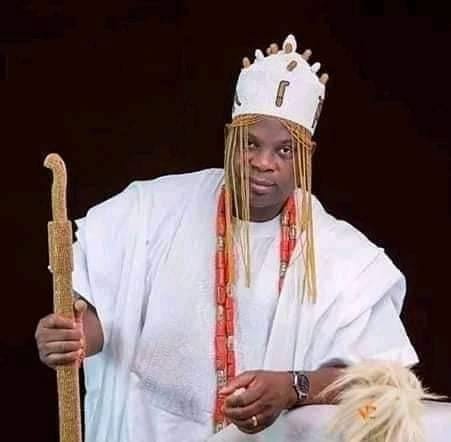 The family of elected Baale of Iyesi Otta, Alhaji Idowu Wasiu Abiola has accused the Olota of Ota, His Royal Majesty Oba Adeyemi Obalanlege of conniving with one Alhaji Nurudeen Adeoye to give the baaleship title to another person despite the fact that the family presented their candidate, in person of Alhaji Idowu Wasiu Abiola to be installed.
Alhaji Idowu Wasiu while speaking with Newsmen over the weekend said he is very disappointed at the attitude of the monarch he respected so much in person of Oba Adeyemi Obalanlege to have use political interest to disrupt his installation as the Baale of Iyesi Otta Kindgom.
Meanwhile, he said a complaints has been sent to Ogun state government by some youth groups in Otta Kingdom calling Governor Prince Dapo Abiodun's attention to wade into the matter and find lasting solution to the whole issue before it result to communal clash.
According to his narration of his ordeal:
"On May 2nd when we did the election where I won with 5 votes, we sent a letter of notice to Olota of Ota, Oba Abdulkabir Adeyemi on 5th of May and he approved it and said he would get back to us,after giving us approval for installation on 13th of May, thereafter a response was sent to us that one of the candidate said he was not satisfied with the election. Olota said the installation would not hold that he needs to cancel the whole process and have a rerun…he said we should come back for election rerun on the 17th of May, when we got to the palace HE: Olota said he is cancelling the list."
"Mr Samuel Adebisi raised an objection that Olota said another election would be done on 17th and we are here but the person that wrote petition is nowhere to be found., he said we should come back by 17th evening where Olota said all aspirant should signed undertaken which the 4 aspirants contesting for Baaleship signed in the presence of Oba Wadudu Ajani Dehinde, Oloruba of Otta .
At Oloruba palace we all agreed and signed undertaken on Monday 24th of May 2021 that another election would hold on Wednesday 26th of May 2021, To the glory of Almighty Allah the voters from the two stocks voted for me.. The family sent the outcome of election to Olota through Oloruba also asking for the installation date."
"Thereafter, One Femi Ahmed disagreed saying oracle should be used to select new Baale then I reminded him that on the 30th of June 2021 at Olota palace the meeting held Oba Akeem Odunaro said the traditional law the not recognized oracle so u should not take us back instead forwardness."
"Ismail Olusesi, the Personal assistant to Olota called on 24th of July that Olota wanted to see, I respected the call during the appearance I was informed the Baaleship matter of Iyesi is somehow difficult after paying necessary requirements to be installed
At the town hall meeting my matter was raised and discussed Olota said he will fine me the sum of 2 million naira for taking the matter to court which attracted Hon Waliu Taiwo ex comissioner in Ogun and other elders attention, They all pleaded on my behalf.
After agreeing to the plea. Olota summoned me on Monday August 22.2022 through chief Lasisi Akinode okotiebo (head of the family Ijemo ruling ) in presence of Mr Rosulu Akinsanya.
Where instructed me to withdraw the case from the court then he would do the needful. Which I did through my lawyer after long deliberation on the action. On Thursday 3rd November 2022. Mr Femi Amed Babatunde claimed again that he has received from olota making it the second certificate through ISALU RUILING HOUSE IYESI OTTA.
I mean the same person that contested with me and lost twice claimed he was rectified as Baale elect And Alhaji Nurudeen Adeoye appeared as their godfather. he is from Ikire in osun state and very close to Olota using the relationship to disrupt all the process of my Baaleship." Alhaji Idowu Wasiu said.
Mr Femi Amed Babatunde according to the investigation would be joining the Olota progressive Baale on Tuesday 15th November 2022 which is contempt of court because the case is still in court.