ADC will rescue Ogun state : ADC Deputy gubernatorial candidate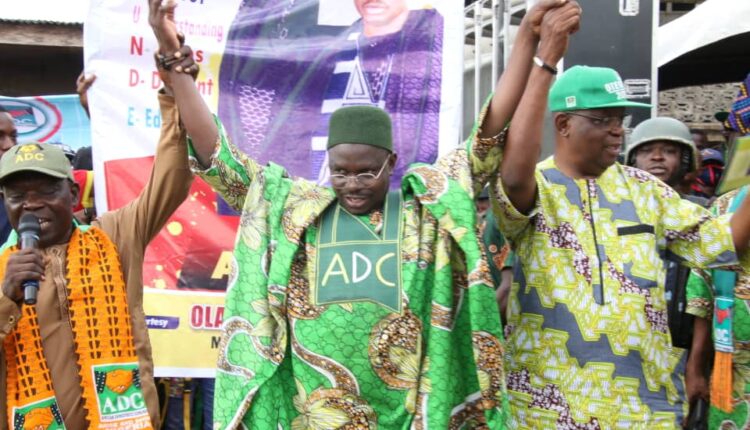 The Deputy governorship candidate of the African Democratic Congress, ADC in Ogun State, Alhaji Olatunde Awonuga has assured that the party has a template for the industrialization of the State.
Olatunde made this assurance during a homecoming rally in his honour at Abigi in Ogun Waterside Local Government Are of the State on Thursday.
The Deputy Governorship candidate who berated the status of education in the State also assured that his party, when elected, will also declare a state of emergency on infrastructure in the State.
.
"I came to inform my people that ADC is the only party that can rescue Ogun State. When you talk of issue of industrialization of the State, we have a template for it already.
"We will declare State of emergency on infrastructure, because we have too much infrastructural decal in the State."
On the State of Education in the State, Awonuga said, "As our immediate priority, we are going to declare state of emergency on education in Ogun State.
"Education in Ogun State is in a state of comatose. Ogun has always been known to be number one in education, but today we are not more among the first ten. So, we'll declare state of emergency on education.
The Party also accused the opposition All Progressives Congress, APC and Governor Dapo Abiodun of sponsoring frivolous law suits against it and its candidates to prevent the party from participating in the forthcoming 2023 elections in the State.
The party, however said it would not be distracted by the cases and the antics of the ruling party.
"We have many resources here. We are blessed with deposits of bitumen untapped and we have many people ready to come and tap it for us. Industries will be springing up from both left and right. We are determined that we are going to industrialize Ogun State."