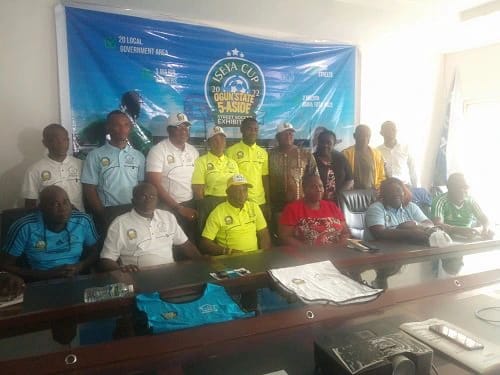 All is set for the maiden edition of the 5-Aside Street Soccer Competition tagged, "Iseya Cup 2022"
Speaking with journalists in Abeokuta on the competition, the Ogun State Commissioner for Youth and Sports, Dr Oluwadare Kehinde said the tournament would go a long way to assist the state in the discovery of talents that would represent the state in national and international competitions.
Dr Kehinde, who was represented by the Director of Administration and Supply, Mrs Kuforiji Iyabode, renewed the commitment of the present administration to continue to create a conducive environment to enable private investors to thrive.
The initiator of the competition, Mr Charles Williams said the 5-Aside Street Soccer Exhibition tagged, "Iseya cup 2022, was part of the efforts of the organization to empower the youths, eradicate social vices and promote sporting activities among the youths
Mr Williams, who noted that over one thousand teams had indicated interest to participate in the competition, expressed optimism that the street soccer exhibition would also reveal hidden potential at the grassroots.