Ogun state govt launches war against open defecation, orders for provision of public toilets in public places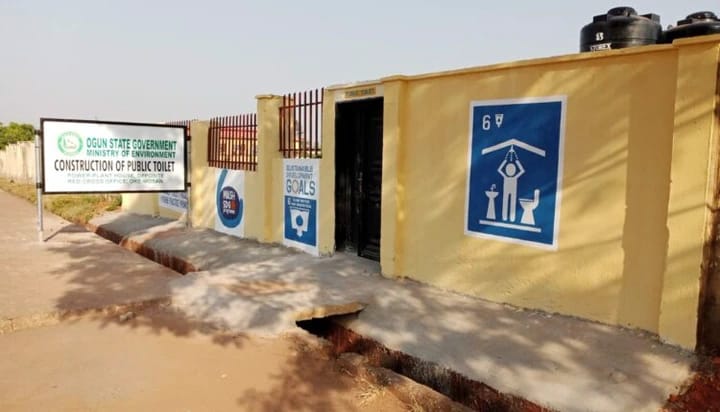 The Ogun State government has mandated fuel stations, eateries, markets and other public facilities in the state to provide functioning public toilets in their facilities as part of the State's efforts at eradicating open defecation in the state.
Ola Oresanya, Commissioner for Environment in the state gave the order at the commissioning of the ultra-modern biogas energy public toilets at the Governor's office Secretariat in Oke-Mosan, Abeokuta.
Oresanya said the mandate become necessary to promote public hygiene and sanitation in public places and discourage residents from defecating in open places when they are in transit or out of their homes when pressed.
To further drive the state government's determination against open defecation, Oresanya also said henceforth party organizers in the state must provide movable toilets at party venues throughout the state adding that Environmental Sanitation Officers from the Ministry of Environment and all the 20 Local Government Council of the state will enforce the directive for effectiveness.
On the part of the state government, the commissioner announced that 300 public toilets with VIP components such as solar panels will be provided in the next six months with the first phase of 50 already at the advanced stage of construction and will be ready for launch at the end of January
All the 20 local government areas of the state will have a minimum of 10 public toilets each while the urban local government areas will have a minimum of 15 to make up the number,"
Oresanya, therefore, called on residents of the state to make use of the toilets in their various localities to further enhance public hygiene and a better standard of living saying the public toilets are to complement those in various houses and public places so that in few months, the state will be declared open defecation free by the federal government and other world sanitation bodies.
Also speaking at the commissioning, the Ogun State Head of Service, Dr Nafiu Aigoro said the Biogas Energy public toilet which was constructed by Biofil Technology in partnership with the Ministry of Environment will complement the existing toilets in the State Secretariat.
He added that it was the first of its kind in the country with the energy generated from the facility good for cooking or floodlights which is another testimony of the Dapo Abiodun administration's determination at eradicating open defecation in the state as well as introducing to the residents the benefits of energies generated from septic tanks when properly treated and converted.