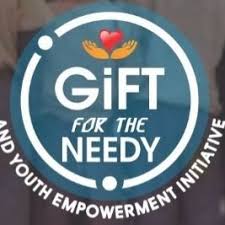 A non-govrnment organisation, Gift For The Needy and Youth Empowerment Initiative, has called on well-meaning Nigerians to alleviate the plight of the less-privileged through material and financial support in the spirit of the season.
Executive Director/Founder of the organisation, Mrs. Ololade Olasupo-Gbonegun, gave the charge during a visit to the Lufuwape community in Obafemi-Owode Local Council of Ogun State, to donate items to less-privileged members of the community.
Items distributed include: bags of rice, semovita, noodles, vegetable oil, salt and tomato pastes. Others are clothes and shoes for children and adults.
She stressed the need for the government and other organisations to reduce poverty in the society by creating employment opportunities and enabling the environment for people to work and earn money and take good care of their families.
She said: "lt's the custom in our organisation to visit the less-privileged in remote communities, especially during the festive period to support them, we carried out our field research, visited two other communities and through the study. We were able to pick Lafuwape, because it is a location we have never reached and the area has a huge number of less privileged persons with many old people."
Welcoming the donations, Baale of Lufuwape community, Chief Michael Kolawole Oluwunmi, appreciated the group for ensuring that people of Lafuwape have food and other items to celebrate the festive period.
He said: "Our community has been in existence for over 300 years and it is heartwarming that this organisation has visited us to donate items for our people. On behalf of the community, l thank those who contributed money, clothes and other things to help our people. God will continue to increase you all."