Obasanjo, OGP synergies to tackle unemployment, boost the economy of Ogun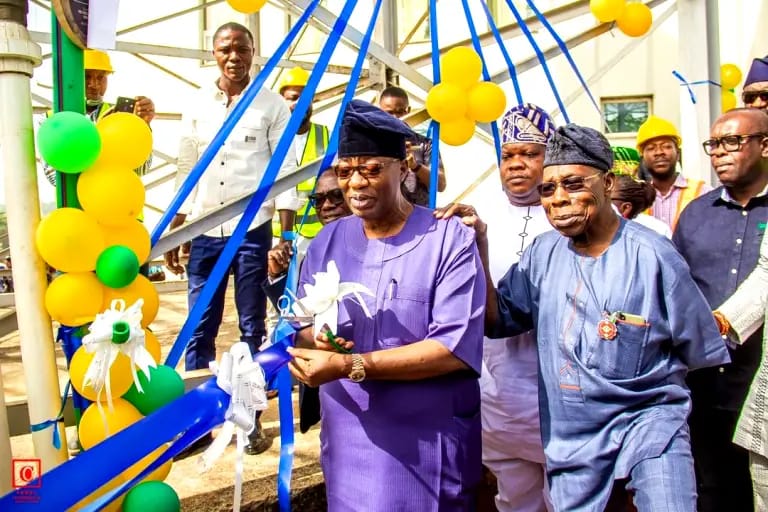 A former President, Chief Olusegun Obasanjo, and former Governor of Ogun State, Otunba Gbenga Daniel, at the weekend resolved to do anything possible to stimulate employment generation and enhance economic development of the state.
Obasanjo and Daniel, who are promoters of the Green Legacy Resort Hotel and Conference Hotel respectively, restated their commitment to their home state during the commissioning of 1.5 million litres water scheme held at the Olusegun Obasanjo Presidential Library (OOPL), Abeokuta.
The project, which would supply water from the OOPL dam to Daniel's nearby five-star facility, was considered an unprecedented show of support and solidarity.
Speaking at the commissioning programme, Obasanjo said he decided to strike the deal with the former governor to assist his hotel in overcoming its water generation challenges.
The former president explained that he had resorted to solar power and built a dam within the OOPL complex with a view to providing uninterrupted electricity and clean water to its facilities and also extend same to others interested.
He further noted that the collaboration between the two parties would ensure the provision of more employment especially in Abeokuta, the state capital.
Obasanjo added, "I believe our own capacity will satisfy what you need at Conference Hotel. I assure you that you will not have shortage of water in your company henceforth.
"I will do whatever I can to ensure we create employment. This is a lively city and to make Ogun State a gateway for development in Nigeria, that means whatever we can do we should always do to create employment."
Speaking after the water scheme was commissioned, Daniel commended the former president's gesture of extending water supply to his hotel facilities.