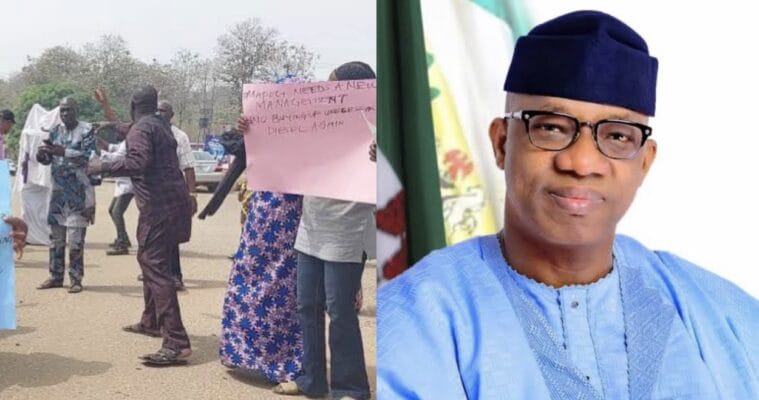 Staff of Ogun State-owned Moshood Abiola Polytechnic (MAPOLY) grounded activities for several hours on Wednesday to protest the non-payment of their salary and gratuities.
The protesting polytechnic workers, who are mainly teaching and non-teaching staff, blocked the administrative building and prevented entry into the school through the main gate.
Armed with placards bearing different inscriptions, the angry staff chanted solidarity songs while alleging that the management of the institution of owing them backlogs of salaries.
Some of their placards read: "Enough of suffering and smiling"; "Implementation of minimum wage"; "Pay our pension deduction (55 months)."
Others include: "We want new management"; "Release our promotion as and when due"; " Please pay our salaries", among several others.
They alleged that the backlogs include 24 months of union deduction, cooperative deductions since 2017, the non-payment of salaries, minimum wage implementation,
pension remittance, and their promotion and appointment since 2019.
Dada Olalekan, the Chairman of the Senior Staff Association of Nigerian Polytechnic (SSANIP) in the institution explained that the management of the school has been insensitive to the plights of the workers.
Mr Olalekan, who spoke after addressing his co-protesters, also said that the management has specifically refused to implement the minimum wage for staff of the institution.
He added that they were being owed three months' salary from October 2022 and 55 months of pension arrears.
"The management of MAPOLY is owing us three months' salary from October 2022; all other institutions and government agencies are collecting a minimum wage, MAPOLY has refused to implement the minimum wage; the management is owing us 55 months of pension arrears. As I speak, nobody has a pension future here. If anybody retires tomorrow, there's no future or pension for that person," Mr Olalekan told reporters during the protest.
The spokesperson for the institution, Yemi Ajibola, could not be reached as of press time as his official telephone lines were not connecting despite several efforts by our Correspondents to get his reaction