By: Ogunleye Oluwapelumi
PSG played the Saudi All-Star Team on Thursday in a friendly encounter tagged the
Riyadh Season Cup. This seemingly could be the last game to ever see Messi and Cristiano Ronaldo play in a competitive game.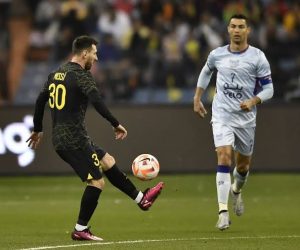 The game ended 4-5 in favor of Paris Saint Germain, after Lionel Messi opened the scoring of lot following a perfect assist from Macquinhos.
The match saw Cristiano Ronaldo's first appearance in Saudi Arabia after his move to Riyadh's Al-Nassr club. Ronaldo got the man of the match award as he scored two goals for his team.
King Fahd Stadium in Riyadh was packed with over 60,000 fans. The match also had in attendance ex footballers and football legends like Thierry Henry, Allesandro Del Piero and Francesco Totti.