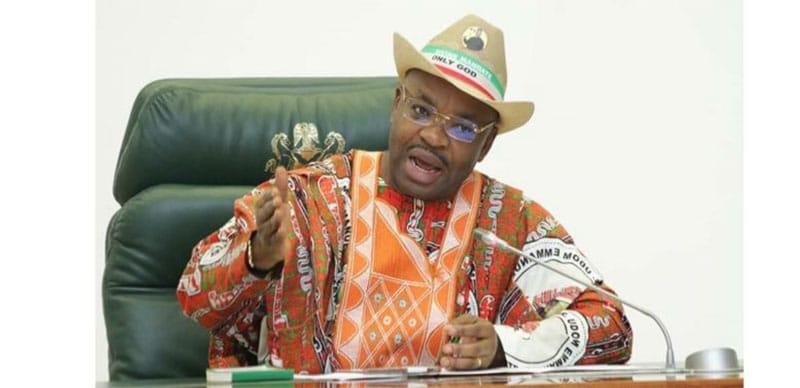 The Akwa Ibom State Governor, Udom Emmanuel, replied the presidential candidate of the All Progressives Congress, Bola Tinubu, saying that he (Tinubu) always resorts to abusing and insulting people during campaigns because he has nothing to bring to the table for Nigerians.
Emmanuel spoke on Monday evening at Government House, Uyo while inaugurating newly appointed Permanent Secretaries, Chairmen, and Members of Boards and Commissions, as well as a Transition Committee to ensure the smooth transition of power to the next administration.
He also said that despite being insulted by the former Lagos State Governor, he would prefer to allow peace to reign by ignoring him and focusing on helping install good governance to rescue Nigerians from their present woes.
Recall that Tinubu had during his rally in Uyo Monday afternoon, reportedly said, "Akwa Ibom, that boy wey bring Atiku here, wey de call himself Governor, tell him enough is enough! He lives in my backyard in Lagos, If no be say we be one, I would have driven him home. You see that mansion he is living, I would just use lizards, pigeons, and scorpions to put him inside.
He added that it was unfortunate that Tinubu, who was granted state-owned facilities such as the airport, security, stadium, and a good atmosphere to come in and sell his manifesto, ended up coming to insult the integrity of over 7.9 million Akwa Ibom people.
What makes him think he will govern Nigeria? If I reply him now, people will call me and say, haba oga you are not like that. But I will reply him one day. There is nothing like 'emilokan' (it is my turn) here, Nigeria is in God's hands."
Meanwhile, the governor thanked the newly appointed Permanent Secretaries for accepting the onerous task of service and urged them to see themselves as ambassadors and work towards raising the bar of leadership which would encourage productivity and promote good working relationships with subordinates in the service.
"This is one thing I promised Akwa Ibom people that appointment of Permanent Secretaries shall be totally on merit and not by mercy, let those that can do the work be given the opportunity. A permanent Secretary is not a promotion, it is an appointment on merit.
Governor Emmanuel also reiterated his commitment towards enhancing efficiency within Civil Service, noting that during his administration civil servants have been promoted on yearly basis.