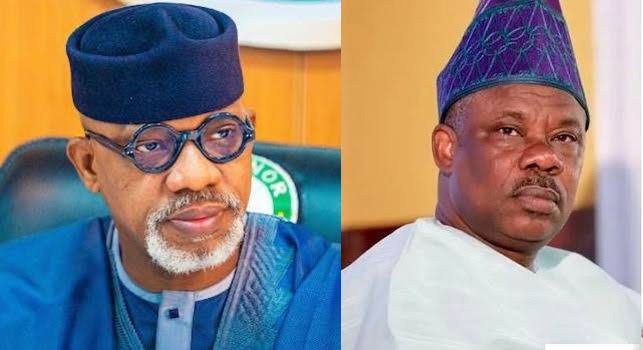 Immediate past governor of Ogun State and Senator Representing Ogun Central, Ibikunle Amosun, yesterday, declared that he was not supporting the governorship candidate of his party, the All Progressives Congress (APC), and Governor of the state, Dapo Abiodun for his second term bid,
Addressing thousands of ADC supporters, Amosun said, "This is my anointed candidate (raising Otegbeye's hand up). I'm APC, but for the governorship election, I'm going to support, I'm going to work assiduously for the candidature of Biyi Otegbeye and his deputy, Tunde Awonuga."
Amosun said, for justice, equity and fairness, the next governor of the state must come from Ogun West Senatorial District, which has never produced governor since the creation of the state
The good works we started during my tenure must continue and this is why I'm supporting Biyi Otegbeye. Everybody knows me. I don't hide behind one finger. Evil thrives when good men refused to talk, you know me, I'm APC, but this election that is coming, I support presidency coming to the South and that is why I'm supporting Asiwaju Bola Ahmed Tinubu, that is why all the Amosun political family are supporting Asiwaju Bola Ahmed Tinubu.
"There are two reasons why I'm doing what I'm doing. The first one is based on equity, justice, fairness. Ogun state is almost fifty years now, since the creation of this Ogun State, nobody from Ogun West has been governor. Some characters are saying Yewa don't have good people, I know they have. Yewa has good children I know that can do it. He (Otegbeye) is a lawyer he has been tested and trusted.
"As a governor, he promised to do everything and did virtually nothing. He abandoned most of them after claiming to have paid 100 per cent for them. We are known as a promise-keeping administration. We promised only what we could do and did all that we promised" Amosun added.