A protest broke out in Abeokuta, Ogun State capital on Tuesday when residents poured into the roads and streets over biting scarcity of cash and the attendant excruciating pains.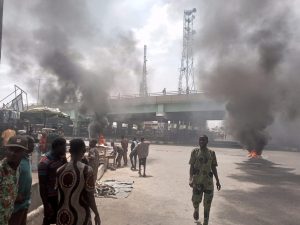 Aladesanmi, Fajol and Somorin in Obantoko area of Abeokuta were taken over by the protesters, making bonfires and chanting anti – CBN songs
The Sapon branch of First Bank was also vandalised as the protesters attempted to set it ablaze.
Ogun Police spokesman, Abimbola Oyeyemi, who confirmed the protest said officers are monitoring the situation to prevent the destruction of property and loss of lives.
Although the police stormed the locations and dispersed the protesters, they regrouped as soon as the operatives withdrew from the scene in greater intensity and made bonfires with disused tires.
More updates soon…..