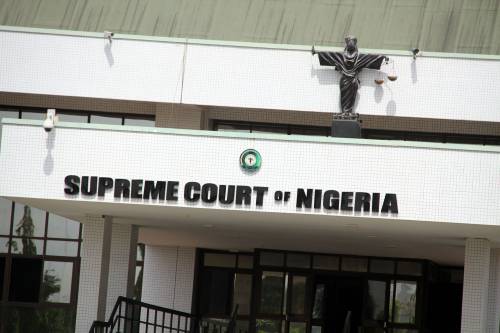 Following the recent pronouncements, which affirmed a former Governor of the Akwa Ibom State, Godswill Akpabio, and Senate President, Ahmad Lawan, senatorial candidates of the All Progressives Congress in the February 25 elections, The Supreme Court had on Saturday 11th, January 2023 came hard on some Nigerians who had been "venting convoluted anger".
The Apex Court warned purveyors of such attacks on the judiciary and Chief Justice of Nigeria, Justice Olukayode Ariwoola, especially the United States-based Professor, Farooq Kperogi and Progressive Minds Forum, to desist and channel such energies to political parties which "fail to organise themselves well."
The warning was issued by the Director of Press And Information in Supreme Court, Dr Festus Akande, in a statement titled, "Be mindful of unwarranted attacks on judicial officers."
According to Akande, as of the moment, over 600 cases have so far gone to court from just party primaries which were conducted by political parties without any encumbrance or interference from any external bodies.
The statement reads, "We have watched with utter dismay some unfortunate events that have been unfolding in the country, particularly within the political landscape, for some days now.
"It is so disheartening to learn that some individuals and groups of persons who ought to know better and even assume the revered positions of role models to a larger proportion of the citizens are now sadly, the very ones flagrantly displaying ignorance and infantilism in the course of defending the indefensible.
"In an ineptly scripted toxic article, one Farooq Adamu Kperogi, who described himself as a Nigerian-American Professor, decided to plunge into an abysmal pit of irredeemable ignorance by venting convoluted anger on Supreme Court Justices with a view to pleasing his paymasters.
"We have made it abundantly clear on different occasions that Judicial Officers are neither political office holders nor politicians that should be dressed in such robes.
"Our silence must not be mistaken for weakness or cowardice.
"Certainly, every Nigerian citizen has an inalienable right to express his or her opinion without any encumbrance; but even in the course of expressing such fundamental right, we should be circumspect enough to observe the caution gate of self-control in order not to infringe on another person's right.
"Courts don't advertise or scout for cases for adjudication; but at the same time, we are duty-bound to adjudicate on all matters that come before us with a view to giving justice to whoever justice is due, irrespective of status.
"Calling on the Chief Justice of Nigeria to resign or attacking Justices that sit on various panels, as exhibited by a faceless group that calls itself 'Progressive Minds Forum,' is rather prosaic.
"Attacks by groups, political parties or individuals under any guise will not deter us, rather it will boost our resolve to do more for the country.
"It is not only petty but equally very unreasonable for anyone to hurriedly link CJN Ariwoola to his state of origin and tribe simply because of a particular judgment of the court.
"We are not politicians and should not, by any stroke of imagination, be cast in that mould either" the statement reads.