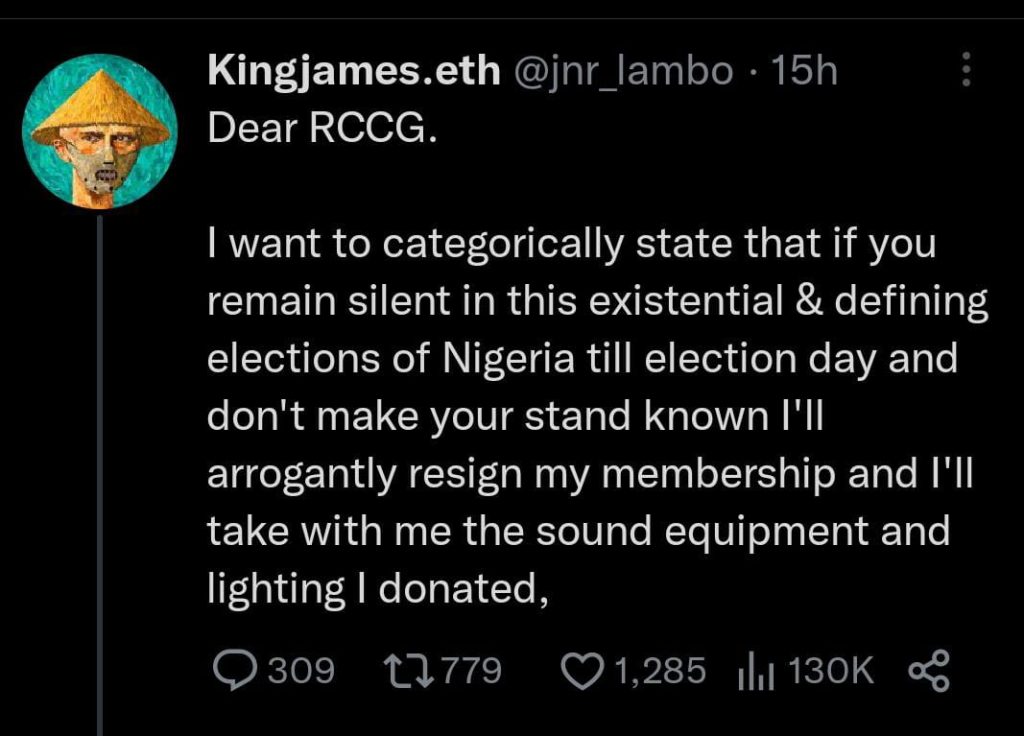 By Ogunleye Oluwapelumi
A Twitter user who goes by the name "jnr_lambo" has threatened to resign his membership from the Redeemed Christian Church of God if the pastorates and leaders do not come out to vocally make known the choice of candidates they'd want their congregation to vote for.
In his tweet, he said" I want to categorically state that if you remain silent in this existential & defining elections of Nigeria until election day and don't make your stand known, I'll arrogantly resign my membership, and I'll take with me the sound equipment and lighting I donated.
"I cannot serve God under a hypocrite congregation, I have written to the church several times. The body of Christ deserves bold men who will stand up for the truth, not this drama you are displaying what is the use of the political department you rushed to create during primaries.
"I repeat I'll be partying away from RCCG if they choose to remain silent during these elections, the existence of the church is being threatened and nothing is being said, really? " He concluded.
This submission by him was not well received by his followers as one of them scolded him and said "The church should be apolitical. In RCCG, there are APC, PDP and Labour politicians. Moreover, the choice of whom to vote for is solely the responsibility of the voter".