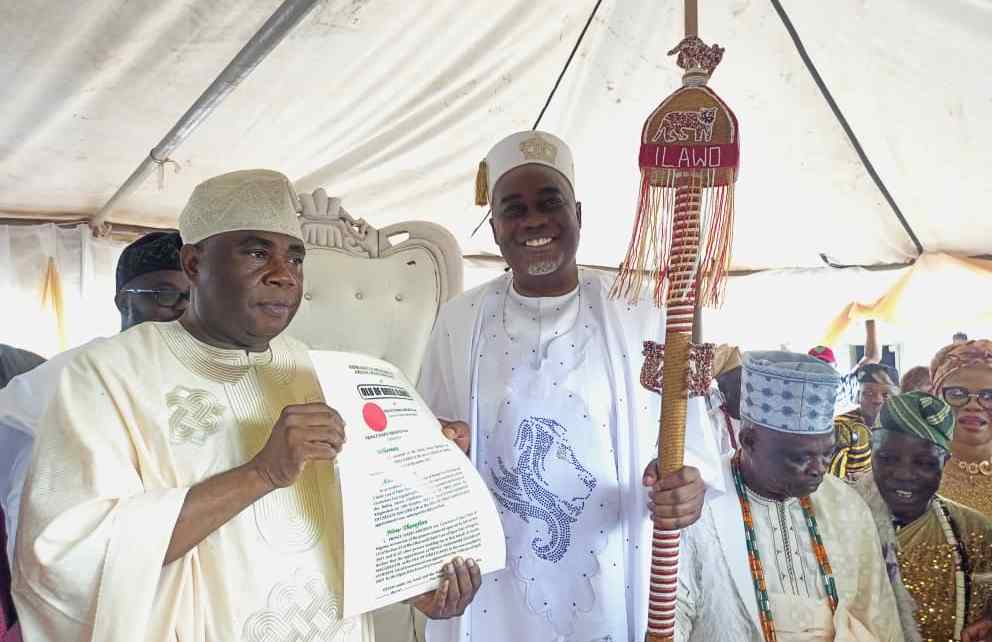 In a bid to end the 16-month of interregnum in the Obaship stool of Olu of Orile Ilawo community in Odeda Local Government Area of the State, Governor Dapo Abiodun has officially presented staff and other instruments of office to Professor Alexander Olusegun MacGregor to become the new traditional ruler of the town.
The event, which was held at the Elegun-Mefa ancestral home of the Ilawo people amidst pomp and pageantry, also witnessed a convergence of prominent traditional rulers in the state, Egba sons and daughters, as well as MacGregor's international friends from the United Kingdom and the United States of America.
Presenting the instruments of office to MacGregor, Abiodun charged the new monarch, a Professor of Pharmaceutical Technology, to strive towards bringing his "reputable" academic experience to bear while administering the affairs of the people of the community.
The Governor was represented by the Commissioner for Chieftain and Local Government Affairs, Ganiu Hamzat, the governor tasked the new monarch to unrelentingly foster cooperation with other royal fathers in the state, extend hands of love and fellowship to all those who competed for the stool with him through "speedy reconciliation", as well as ensure that he is "accessible, receptive and responsive" to the yearnings of the peoples in his domain.
Let me also implore you to immediately concentrate on the task of accelerating the pace of socio-economic development in Orile Ilawo town by mobilizing your people to continue to support the Government, particularly, by performing their civic duties in the prompt payment of approved taxes, rates, and levies, required for the provision of social amenities and general development of our dear State," Governor Abiodun stated.
In a statement by MacGregor, "We shall carry out reforms in palace administration to be adequately responsive to our peoples' sincere and deep longing for justice, equity, and stability. We shall strive to ensure that conflicts are resolved between individuals, families, and communities along the principles of social justice.
"We shall use cultural diplomacy as a veritable tool for the promotion of harmonious relationships with our neighbors far and near," the new monarch stated.