Flood Alert: Ogun Govt Warns Residents On Flash Floods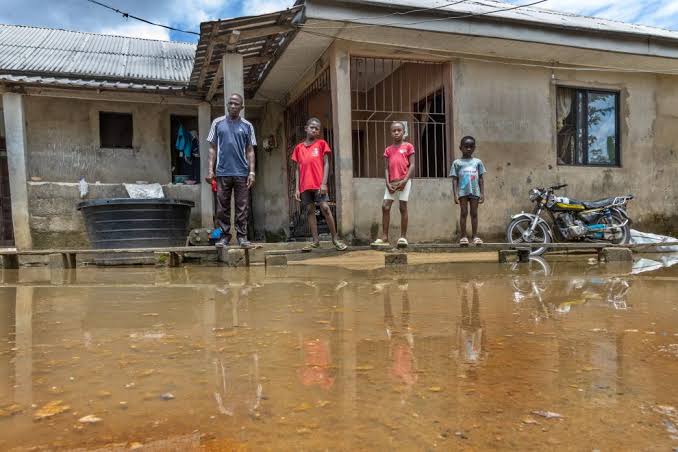 Following a prediction by the Nigerian Meteorological Agency on flood in the state, the Ogun State Government has alerted communities between Lagos and Ogun States to relocate to avoid flood disasters.
The call was made by the state's Commissioner for Environment, Ola Oresanya, at a press conference in Abeokuta, who listed the communities to include Akute, Isheri, Mowe, Ibafo, Riverside Estate, and other border communities between both states, warning the residents to be ready for flash floods with the state expecting 3,646 mm of rainfall between April and November this year.
Oresanya said: "Residents are advised to desist from the temptation of building on run-off routes and placement of temporary structures and containers or extension of business premises on top of drains in markets and public places.
"Preparing for the inevitable impact of the natural pattern of rainfall predicted for the year 2023, residents in the following areas at Onikoko, Sokori, and Arakanga areas in Abeokuta, Owa, and Yemule riverbanks in Ijebu-Ode, Eruwuru in Sagamu, Ebute Kimobi in Ijebu East, Isaka Owode in Ado-Odo Ota, Owode, Igijo, Ilaro, and Ijoko should expect flash floods due to heavy rainfall within short periods.
"The second season will have a prolonged impact in wetlands such as Alagbole, Akute, Isheri, Warewa, Oke-Afa, Mowe, Ibafo, Kara, Onihale, Ebute Kimobi, and Riverside Estate.
"These areas will witness coastal flooding due to the tidal lock of the Ogun River by Lagos Lagoon from a natural rise in sea-level coupled with possible release of excessive water from the Oya Dam. Residents of these areas should be prepared to relocate temporarily from these areas during the second season of rainfall if required.
"Furthermore, farmers in the state are advised to complete the harvest in the month of August and avoid farming and livestock rearing along the flood plain to prevent the adverse impact of intense flooding of the second season of rainfalls.
Residents have been reassured of effective collaboration with the management of Ogun-Osun River Basin Development Authority (OORBDA) and the neighbouring states of Lagos and Oyo, especially as it relates to the release of water from Oyan Dam in realization of the inter boundary impact of flooding.