By: Ogunleye Oluwapelumi
Preparing for the 2024 National sports festival in Nigeria, which is scheduled to be held in Ogun state, the executive governor of Ogun state, governor Dapo Abiodun on Saturday, 6th May 2023 signed an MOU with the federal government. This is in further confirmation of hosting the sporting event.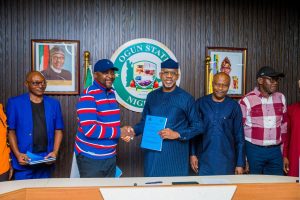 Prince Dapo Abiodun in a statement, said "We just signed an MOU today with the Federal Government to host the 22nd National Sports Festival, 2024.
"This is a great win for us as it supports our Youth and Sports Development agenda, under the ISEYA mandate.
" We are truly grateful for the opportunity given to our dear State by the @NigeriaFMYS under the leadership of the Honorable @SundayDareSD. We will definitely make it a successful event" he concluded.