To ensure further development in Ilisan of the Ikenne local government, the Ilisan Development association today, 16th April 2023 officially inaugurated the new set of executives expected to pioneer the arm of affairs for the next few years.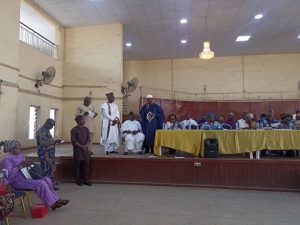 The commissioner of environment speaking during the inauguration admonished the youth to get trained accordingly as different companies will be bringing innovations to illisan because of the Agro Cargo Airport,Iperu-Ilishan.
In attendance is the Chairman of Ikenne Local government, Hon Segun Ogunleye, Aare Wemmy Olumide Osude, Mr Ola Oresanya, Commissioner for Environment.
"The customs will come to build in Ilisan because of the Cargo Airport. More investments will come in also; Therefore, more development is expected in town. Hence, the youths should get trained and be ready because there will be job opportunities" the commissioner added.