Following recent complaints of the incomplete project of the Ogijo road duly led by prince Dapo Abiodun, the governor and his team visited the project on Thursday, and promised a swift completion.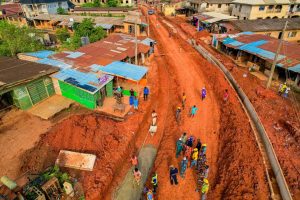 This is in fulfillment of the "Iseya" mandate prince Dapo Made that all projects will be completed and everything needed to make living comfortable for the people would be done.
The governor, In a post visit statement on Twitter wrote "This afternoon, we inspected the ongoing construction of Hospital Road, Ogijo in Sagamu Local Government Area as part of our efforts geared towards the provision of good and accessible roads across the entire State.
"It is on record that our Administration has successfully completed over 400 kilometers of different roads in all the 20 LGAs in less than four years, and this has been adjudged as unprecedented in the history of the Gateway State" the governor added.