Ogun Pensioners lament over nonpayment of gratuities and arrears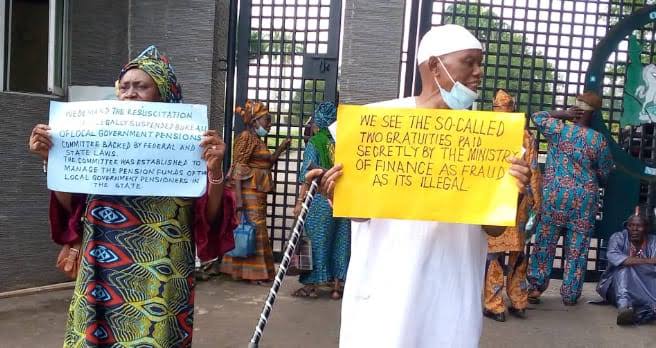 Pensioners in Ogun State on Thursday protested the non-payment of their outstanding gratuities and arrears since 2019.
The pensioners who came together under the aegis of the Nigerian Union of Pensioners (NUP), Ogun State chapter, put the outstanding gratuities owed by the state government at N64.4 billion.
The Chairman of the union, Waidi Oloyede, who addressed journalists on behalf of the pensioners, urged Governor Dapo Abiodun to respect their old age, saying "No one deprives the elderly of their 'walking sticks' without its attendant consequences."
He also appealed to the governor to increase the quarterly payment of gratuities from N500 million to at least N2 billion in the state.
Oloyede said: "It is unimaginable to state that a total sum of N3.6 billion has so far been paid as gratuities by the Ogun State government over three and half years ago.
"It is our candid belief that with the increase in Internally Generated Revenue (IGR) in our state as openly admitted by His Excellency in recent times, we strongly believe that a quarterly release of N2 billion will marginally go a long way to offset the backlog of unpaid gratuities.
"Pensioners are dying in droves on a daily basis for lack of good healthcare that require ample financial redemption and expected pensions for the 25th of each month as it used to be in the Ogun State of previous administrations
"This looks like a government of deceit to the senior citizens since life is now very unbearable for the pensioners in Ogun State.
"No one deprives the elderly of their 'walking sticks' without its attendant repercussions. We are hereby calling on the Ogun State Government led by Prince Dr. Dapo Abiodun to have a change of heart and pay the gratuities of the elderly that have toiled hard in their hay-days to keep the state on a sound footing."