Protest In Ogun Communities Over Collapsed Okepa Link-Bridge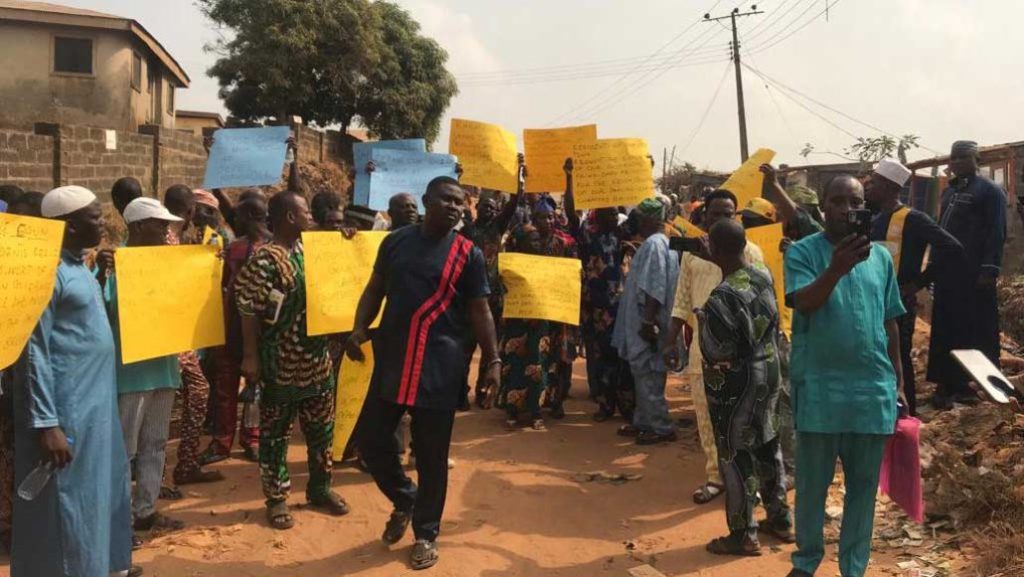 About 100 communities in Obafemi-Owode Local Council of Ogun State have called on the State Government to repair the collapsed Okepa link bridge, built in the 1950s by the colonial government, which caved in last year after heavy rainfall.
The communities, which staged a peaceful rally at the weekend on the site of the collapsed bridge, urged the state governor, Mr. Dapo Abiodun, to save them from the hardship they are now exposed to following the collapse of the bridge, which links some agrarian communities in the council and serves as an alternative route to Lagos-Ibadan Expressway.
Some of the affected communities cut off from economic activities as a result of the collapsed bridge are Magbon, Fowowawi, Kara Nla, Torotoro, Orimerunmu, Ijere Worugundu, Orile Egan, Imedu Okepa, Makogi, Pakuro, Adesan, Ogunrun Ori and Magboro.
Speaking to our reporter, Otun Baale of the Ogunrun Ori community, Chief Olabanjo Awosiga, said the collapsed bridge has caused immense disruption of economic activities in the entire Ofada Ward.
According to him, there is a need for urgent government attention on the bridge, which also leads to the only government primary school in Pakuro
A community leader and chairperson of Unity Avenue Community Development Association (CDA), Mrs. Talabi Bolajuku, narrated the dangers residents, especially women face in taking their children to schools as well as going to Mowe market.
According to her, the only option for them is to use the Lagos/Ibadan Expressway, where they have to come out and turn at Olowetode U-turn, near NASFAT and enter the expressway towards Ibadan, before turning again at 'Car park C' near Redemption Village to return to Mowe.
Reacting, Mr. Sunday Olakunle Somorin, the Chief Press Secretary Ogun State governor, Prince Dapo Abiodun, said the reconstruction of the damaged bridge has received approval and awaiting implementation. He assured that the state government will prioritize the reconstruction of the bridge to ensure the security of life and property.