EFCC FC, the football club of the Economic and Financial Crimes Commission, EFCC, on Saturday, March 18, 2023, booked a place to represent the Federal Capital Territory in the Federation Cup Final, after it emerged runners-up of the FCT FA Cup, losing the final game 2-4 on penalties to the winner, Mailantarki Care FC.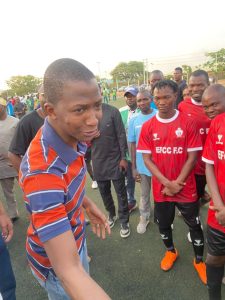 The entertaining game played at the Area 3 football pitch ended goalless at full-time.
Speaking at the end of the game, the Executive Chairman of the Commission, Abdulrasheed Bawa commended the team for their fighting spirit, assuring them of the Commission`s continued support.
"Of course, it is in our plan to be at the highest level of the game that is why we are investing so much in the team; also to encourage them, especially to promote the fight against economic and financial crimes through sport.
"We have been prosecuting some fraud in sports as well and we are open to receiving petitions from the public", he said.
Credit: EFCC