Protesting Workers Force Open National Assembly Gates in Abuja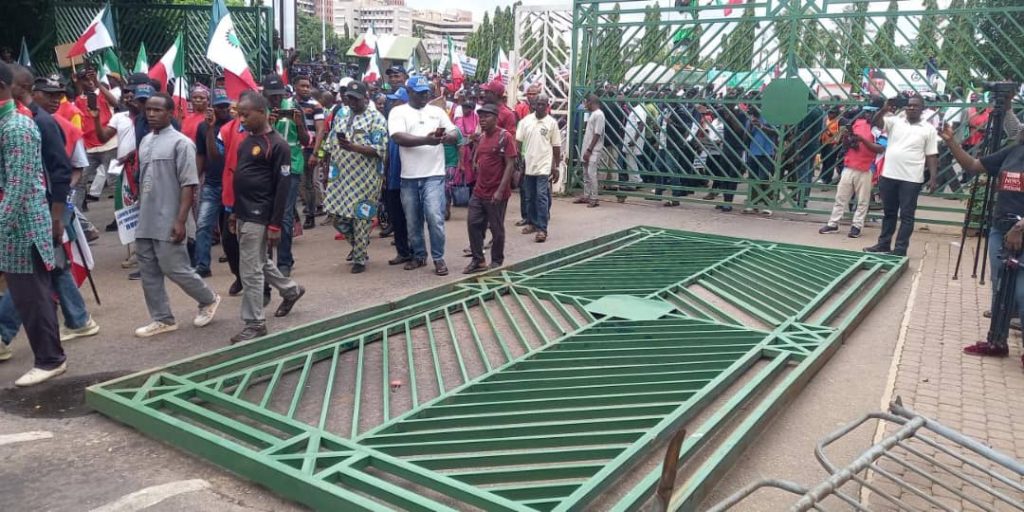 By: Ogunleye Oluwapelumi
The National Assembly complex in Abuja was forcefully opened by protesting workers after an altercation with security agents. The workers, who are members of the Nigerian Labour Congress (NLC), Trade Union Congress (TUC), and other aggrieved Nigerians, are protesting against the hardship caused by the removal of fuel subsidy by President Bola Tinubu's administration.
The protesters, who had gathered at the Unity Fountain, marched with placards and banners to the Federal Ministry of Justice, where they were addressed by the President of NLC, Joe Ajaero, and TUC President, Comrade Festus Osifo. They called on the Nigerian government to address the suffering being faced by the masses arising from the subsidy removal.
The protesters then headed to the National Assembly complex, where they were met by armed policemen who had locked the gate to prevent them from gaining entry. The protesters overpowered the security agents and pulled down the main gate of the complex. They are currently heading to the second gate of the building and have vowed to also pull it down.