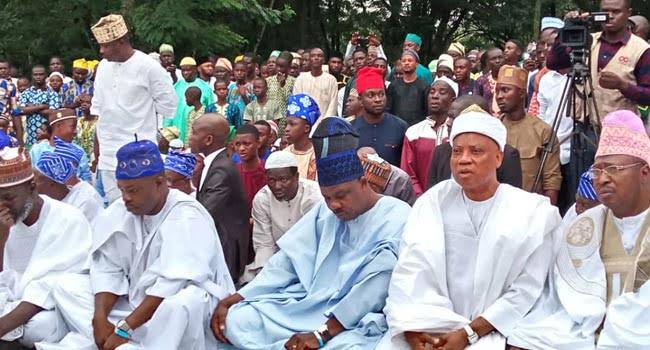 The League of Imams and Alfas in Ogun State, yesterday, warned that it would not condone infringement on the rights of Muslims to perform their spiritual obligations by suspected traditionalists.
The Imams and Alfas, who spoke in Abeokuta at the Egba Central Mosque, Kobiti, include the President General of the League of Imams and Alfas in Ogun State, Shaykh Sikirullahi Babalola; Grand Chief Imam of Ijebuland, Shaykh AbdulRazaq Ayanbadejo; Grand Chief Imam of Egbaland, Shaykh Sa'adallah Bamigbola; and Grand Chief Imam of Remoland, Shaykh AbdulQuadri Jinadu.
The group, in a commuinqué by the Secretary-General, Rabittah Ogun State, Imam Tajudeen Adewumni, also lamented alleged incessant attacks and threats from traditionalists urging the Inspector-General of Police, Mr Kayode Egbetokun to intervene in the matter.
The commuinqué reads in part: "The leadership of the Muslim community appreciated the effort of President Bola Tinubu in his administration's effort to revive the country from its economic doldrums and political quagmire which necessitated the removal of fuel subsidy. It, however, called on the President to devise practical and realistic means to quickly return succor to the already impoverished Nigerian masses who now find it extremely difficult to afford the basic needs of life, especially feeding the families.
"The meeting implored the administration to courageously investigate the subsidy issue and prosecute any corrupt characters found out. Moreover, the accrued profits from subsidy removal should be directed towards the resuscitation of the already collapsed nation's amenities and infrastructures as well as job creation for the teeming unemployed youths. State governments were, however, urged to ensure fair distribution of the subsidy palliatives and ensure that they reach the masses in good conscience.
"The government of Ogun State, under the leadership of Governor Dapo Abiodun, is implored to be fair to all concerned in the constitution of his cabinet as he continues the second term of his administration. As a community, we expect fairness in the appointment of state commissioners, and the composition of various boards and agencies of the state government."