Ogun Fish Sellers Follow Path Carved By Sagamu Fish Sellers, Protest Price Hike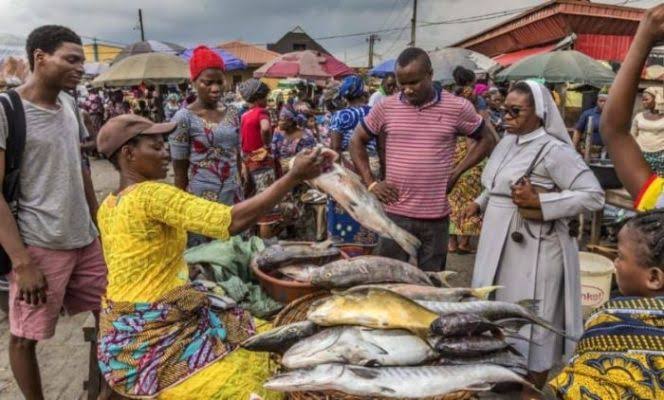 By JP Ashedzi
Following the fish Sellers protest last week in Sagamu, the fish sellers in Ogun State on Tuesday took their protest to the Governor's Office at Oke-Mosan.
They were armed with placards bearing various messages appealing for government intervention over the skyrocketing prices of fish, said that many of them are already in debt while some are now leaving the business because they could no longer operate given the current economic realities.
Although the fish sellers were barred by security agents from entering the governor's office, they made their message clear.
Speaking with the journalists during the protest, the Chairman, Fish and Seafood Sellers Association of Ogun State, Chief Onajobi Aremu, said the fish sellers are now finding life unbearable because of the everyday increase in the prices of fish while their only means of livelihood is under serious threat.
Onajobi said, "We are all here to let the government know that life is becoming so hard for us the fish sellers and those eating it too. This is due to the everyday increase in the prices of fish. For instance, a carton of Mackerel that we call Titus has jumped from N45000 to N85,000, invariably one Titus is now N2000. A carton of herring commonly called 'Sawa' which used to be N14000 is now N47000.
"The most painful part is that let's assume that you buy this fish say for N50,000 in the morning before the afternoon it is N70,000 and the following day it will be N75,000. How can we survive in this kind of situation?
Mrs Adiat Omoowo, leader of the Fish Sellers, Egba Division, "We are here to plead for the governor's intervention over this unexpected turn of events in our business. We did not start this fish selling yesterday and things have never been like this. How can we now pay N85000 for what we used to buy for N4000? This is hard on us.
Addressing the protesters, the Commissioner for Women Affairs and Social Welfare, Adijat Adeleye-Oladapo, appealed to the traders to be more patient with the government saying the hike in fish is not peculiar to Ogun state.