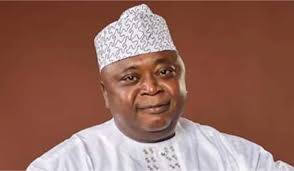 The people's Democratic Party (PDP) Governorship candidate in Ogun State, Adebutu Ladi has stated that he does not intend to spend more than a single term of four years in office if he is voted for in 2023 as the next governor of the state
The Governorship aspirant made this known on the Yoruba radio programme, "Oju Abe", on Splash 106.5FM, Abeokuta, the Ogun State capital.
Adebutu Ladi who is of Iperu descent said four years is enough for him to make significant impact and turn around the State, in his words he said, "Four years is enough to make a change. It is enough to do whatever you have in mind. It is enough. Once you create a template to do well, four years is okay" he said.
Highlighting parts of his plans, he assured his supporters that he improve the state by engaging in massive road construction, generate power independently, and return power to the Local Government.
He said would not seek a second term as the reason he was contesting was to complete the eight years quota of the Ogun East senatorial district."