Ogun 2023: Adeola calls on Ogun electorate to vote for continuity of the APC led govt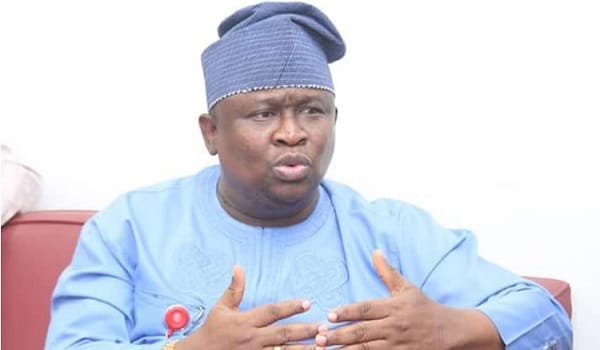 Chairman of the Senate Committee on Finance, Solomon Adeola, has urged voters in Ogun State to remain with the centre by casting their votes for All Progressives Congress (APC) and its candidates in the forthcoming 2023 general election.
Adeola, who is the APC senatorial candidate for Ogun West, urged the electorate to vote for APC at the presidential, National Assembly, governorship and House of Assembly elections to remain with mainstream politics, attract dividends of democracy and greater development.
The senator, who spoke yesterday in Ilaro, the headquarters of Yewa South Local Government Area during the empowerment of 3,500 youths and women, urged the people to vote for him, Asiwaju Bola Ahmed Tinubu, re-elect Governor Dapo Abiodun and other candidates of the party.
He expressed confidence that Ogun West and other residents of the state would re-elect Abiodun, despite the efforts of his foes to pull him down.
On his empowerment programmes for his constituents, besides giving 3,500 artisans start-up kits, Adeola also empowered them with N130 million start-up fund.
The senator explained that his intention was to pull the beneficiaries out of poverty through self-reliant and gainful employment for youths and women, irrespective of tribe, religion or political affiliations in Ogun West.
Adeola recalled that as a legislator of over 19 years standing, giving requisite skills and empowering youths and women was part of his core values.
"Today, in conjunction with Federal Cooperative College, Oji River, Nigerian Institute of Oceanography and Marine Technology and National Productive Centre, Abuja, a total number of 3,500 trained participants in their preferred vocations were empowered with equipment, in addition, a total sum of N130 million as start-up funds.
"In our present situation, in addition to good education, skills of various kinds are advantageous in generating income and combating rising unemployment and under-employment.
"Towards this end, many trainings for skill acquisition, entrepreneurship development and ICT as well as empowerment with equipment are the ways that I achieve effective representation," he said.