Following the power outage yesterday In bauchi,The All Progressives Congress (APC) has reacted to the incident that brought its presidential campaign to an abrupt end.
The camaign rally was ongoing at the Abubakar Tafawa Balewa Stadium, Bauchi, when the power supply ceased thrice and the sound system went off and could not be restored.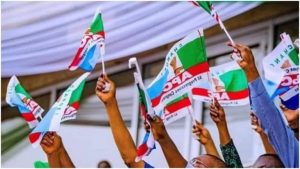 Afterward, President Muhammadu Buhari left the stadium without delivering any speech, waved to the crowd as he headed toward his vehicle. Leading to end of the rally shortly after he left.
The party's Director of Publicity, Bala Ibrahim, in his reaction to the incident, said the cause of the faulty sound system would be investigated.
Ibrahim said it would be wrong to attribute the incident to sabotage, adding that the picture would become clearer at the end of the investigation.
He added that despite the incident, the event was a huge success even as he ruled out a repeat of the rally.