Gridlock at Kara, sagamu as fuel tanker collapses
A fuel tanker conveying petrol from Kara to Makurdi Benue state, collapsed at living spring junction, Kara, Sagamu today at around 4pm.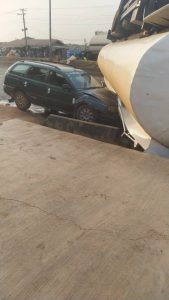 The tanker was said to have lost control without a driver as it rolled back in reverse, collapsing on a taxi. After a while, the Ogun state fire and safety service came on ground to salvage the situation from escalating.
As at the moment of filing this report, there is no havoc yet, but Motorists are advised to go through an alternate route to their destination.
As the firefighters are at hand, it is very imminent that the situation will be put under control in no time.