Mournful Atmosphere as Fallen Heroes Are Laid to Rest at National Military Cemetery in Abuja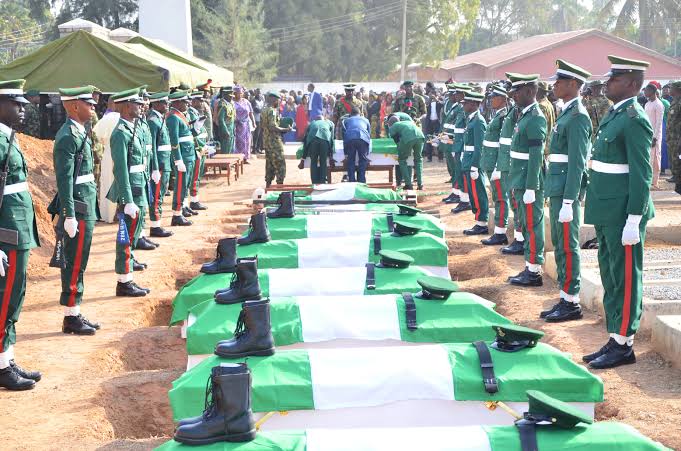 By: JP Ashedzi
The mood at the National Military Cemetery in Abuja is mournful, as the burial of at least 20 of the officers and soldiers who were killed in action by terrorists in Niger State is ongoing.
The rank and file of the Nigerian Armed Forces were joined by family members and friends for the burial of 22 of the military personnel who died in combat.
The military had last week disclosed that 36 personnel paid supreme price during an ambush by the terrorists at Zungeru-Tegina road and the subsequent jet crash that happened in Chukuba area of Shiroro, all in Niger State.
Correspondents currently covering the burial report that the Minister of Defence, Abubakar Badaru and his counterpart for State, Bello Matawalle as well as the Chief of Defence Staff, Gen. Christopher Musa, are on the ground.
Other dignitaries include the Deputy Governor of Niger State, Yakubu Garba; the Chief of Army Staff, Lt.-Gen. Taoreed Lagbaja; Chief of Naval Staff, Emmanuel Ogalla; families and relatives of fallen heroes; among others.