Construction Work Begins On Sagamu -Papalanto-Ilaro Road -Abiodun Says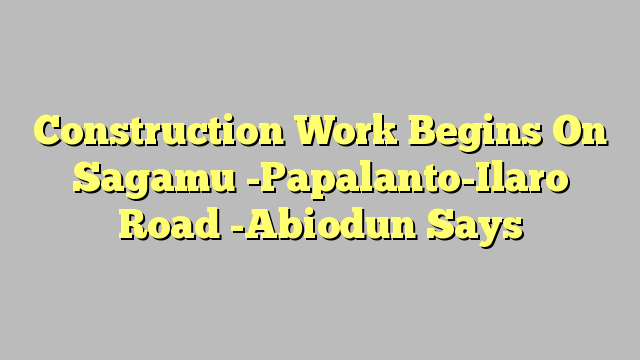 Ogun State Governor Prince Dapo Abiodun has disclosed that construction work has commenced on the Sagamu-Papalanto-Ilaro Road under a Public Private Partnership (PPP) arrangement between Ogun State, the Federal Government and Dangote Group.
Governor Abiodun, who disclosed this at the commissioning of the Abeokuta branch of Providus Bank at Oke-Ilewo, said the dual carriage way which would be made of concrete, represent a successful story of how PPP could be used for the good of the people.
The road, the governor said, when completed, would ease traffic on the Abeokta -Siun- Sagamu road, which is currently providing a link from the Ota axis to the Lagos-Ibadan Expressway.
He also said the influx of industries and other forms of investments to the state is a clear indication that the PPP vision of his administration is yielding positive results.
The governor noted that the various policies and programmes put in place by his administration through the ISEYA pillars and the buy-in by the private sector show that public private partnership could work if properly harnessed.
He said: "Ogun is blessed with mineral resources in abundance; two-thirds of our land is sitting on limestone. The gas pipelines that crisscross our state and the conducive environment have brought a lot of industries and businesses to our state.
"Ogun State is the largest producer of cassava in the world, number one producer of poultry and eggs in Nigeria. We are the industrial, religious, and educational capital of Nigeria.
"We have more universities than 3-4 states combined, which means that we are constantly incubating more students than any other state," the governor said.
Credit: OGSG