REMO STARS QUALIFIES FOR THE SEMI FINAL OF OPTIMA GOLD CUP
Remo stars played Niger tornadoes in the last game of the Optimal energy gold cup group stage on Monday evening in Ikenne. The game a lot referred to as a controversial game.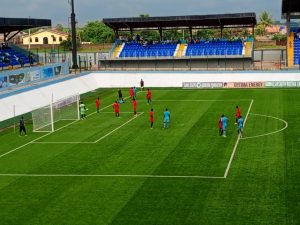 Niger Tornadoes Babatunde scored the first goal of the game in the 73rd minute of play to give the Ikoh Allah boys a late lead in the game, but their enthusiasm got called short after a penalty call from the referee for Remo stars in the 86th minute.
Niger tornadoes walked out of the pitch in protest for the call made by the referee, insisting that the call is wrong, and they will not continue with the game if not reversed by the referee.
Following Niger Tornadoes' decision to walk out on the match, three points and three goals have now been awarded to Remo Stars.
The sky-blue stars thus advance into the semi-final.