"EYE SERVICE" THE CELEBRITY KIND OF LOVE.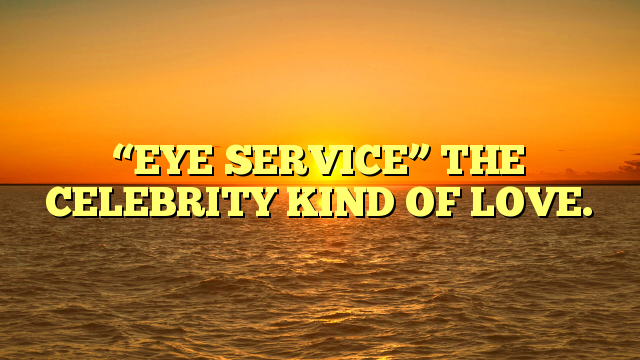 "I read some poems and I laughed. Rico was a musician, how many of you posted his music or supported him? You are coming out to write poems. What did you do to help him when he was alive? Even when he was in the hospital, you couldn't contribute money for his treatment; instead, you were doing a fundraiser.
"I knew this gentleman even before he entered the BBNaija house. He was like a brother to me. How many of you posted his music? But now that he is dead, you are all trying to act like you care. If it is to celebrate your colleagues, you won't. It is only to announce bad news. That is all you know how to do."
Those were the words of Nollywood actor, Uche Maduagwu, as he lambasted his colleagues in the entertainment industry regarding the eulogies they had written about Patrick Fakoya aka 'Rico Swavey", a former BBNaija housemate and artist who had passed on to glory after a fatal motor accident Thursday, October 13, 2022.
He(Uche Maduagwu) found the sudden love for the deceased pretentious in nature as the dead held no relevance to love at the point of their demise, in his opinion, which I strongly agree with, it would have been more beneficial if that love and energy had been channeled to helping him in promoting his craft while he still was alive.
While some "deluded Netizenschasers and clout" lynched his statement which had in it embedded every iota of truth, we cannot trash the validity of the message which he passed across;
"The need for us to be demonstrative and proactive even with our loving"
Mid-year, precisely in July 2022, the internet was agog when pictures of veteran actor Kenneth Jideofor commonly referred to as "Aguba" surfaced online, the actor professed to being homeless and in dire need of financial assistance, it is worthy to note that none of his colleagues in the entertainment industry made any attempt to come to his aide, save for Yul Edochie who asked for his account details so a "crowdfunding" by the internet community could be carried out.
Quite interestingly, Aguba's knight in shining amour did not come from his colleagues but rather from the church, The founder and general overseer of Omega Power Ministries (OPM), Apostle Chibuzor Chinyere, came to his aide and salvaged him from his predicament, providing total rehabilitation.
The case of Earnest Asuzu is not so different, in 2021 the entertainer was sick and required N350,000 to undergo treatment, help did not come, he succumbed to the ailment, it came as a shocker when his colleagues attempted a N25 Million donation to give him a "befitting and glamorous burial", this fundraiser was spearheaded by Emmanuel Ehumadu and other "well-meaning colleagues"
Bearing in mind the principle of "Time and seasons" it is pertinent to state that what Is worth doing should be done well and with utmost sincerity.
It is no longer that we heap accolades and shed tears for the dead just because we grew in a society that has practiced it overtime, and we have become accustomed to it as well.
It is a display of wickedness and self-centeredness if we show false attention just to trend or appear like the good guys.
The entertainment industry will fare much better if we consciously imbibe the "we rise by lifting others" mantra.